The other day I got a call that kindly informed me we were about to get this letter!
 

Dear Darcy,

I am emailing on behalf of Assessor Carmen Chu to inform you that your business has been selected to be recognized as one of our Favorite Neighborhood Small Businesses for 2018. In the lead up to 2018 San Francisco Small Business Week, the Office of Assessor Carmen Chu has received nominations from customers, neighbors, and merchants associations across the City, promoting their favorite small businesses to be recognized. We selected your business because you stood out among all of our nominees as an incredibly dedicated and tireless contributor to your neighborhood! We were moved by the account of your contributions shared in your business's nomination and look forward to meeting you and hearing more about your story.

This recognition aims to celebrate and highlight the positive impacts that you are making each day in your local community. Assessor Carmen Chu looks forward to visiting your business, meeting you, and sharing a recognition from her office. Our office will also feature your business during Small Business Week via the Assessor's social media. I'm including the details of the visit below. Please feel free to reach out with any additional questions.
A few months ago, my friend, Caitlin Morgan mentioned that she was nominating Heartfelt for this award on my Facebook page …. lo and behold, we are receiving the award from Carmen Chu and the Office of the Assessor. It led to all sorts of questions in our workplace re: what does an Assessor do and why does their office care to recognize small businesses? I love this quote I found from Assessor Chu, "There is a lot of need in this city and a lot of room for people in different positions to lead." She goes on, "I'm not just an assessor. I'm a public servant and I want to help build stronger communities. Think of me as your neighborhood assessor."
She is coming by tomorrow, Friday (4/20) at 3:00 p.m. to give us the award. We will, of course, serve champagne! If you are around Cortland at that time come by and toast!
We have been in a total whirlwind at Heartfelt of late, we have set up a new POS system and all our brains are spinning. I would like to take a moment to give a huge shout out to Meryl, Sara and Shila for launching this incredibly complicated cloud-based system. We are still shaking off the brain drain, but it will result in an amazing new website and lots of geeky reports that I can mull over into all hours of the night. My apologies that the website is sleeping right now...it is waiting for its finishing touches and we will launch with some delightful Mother's Day gift ideas. Stay tuned. As soon as it is up I will give a shout out! I can get excited endlessly. The next item on my to do list today is to make some surprise boxes. Our surprise balls have been such a hit and I bought a close out of some super gift boxes, this afternoon I am going to put together a few. Remember we cannot reveal what is in a surprise box because, yes, it is a surprise. I can guarantee from the bottom of my gift giving heart that they will be way cool.
And last but not least I made soup with Molly the other night, it is still cool out and we felt like soup. I am also obsessed with the Instant Pot as most of you know. This does not require The Pot, of course, thus I share it here.
I steamed the kale before adding it to the soup...otherwise Molly and I agreed this is the best soup, bar none, that I have ever made.
Oh also:   a plethora of Squishys have arrived, if you do not know what a squishy is come by and feel the slow rise.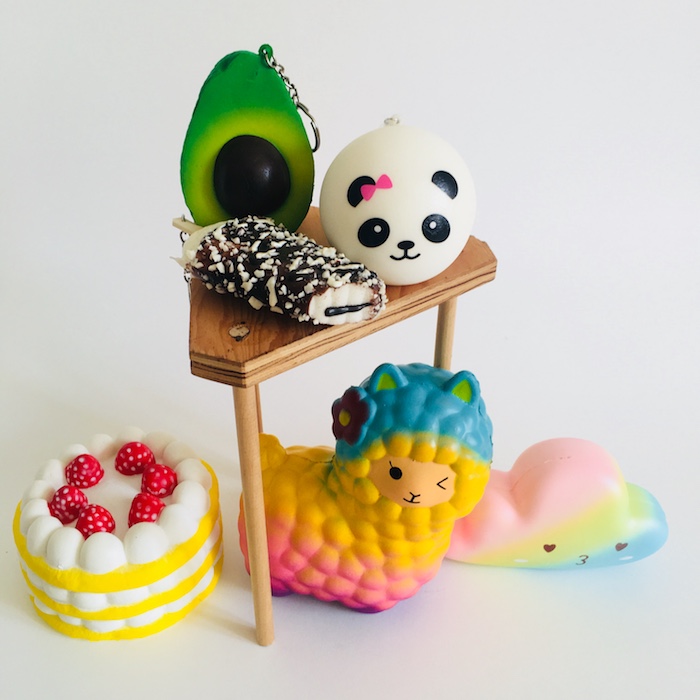 Gotta go put things in a box! Surprise!
Big D